Team Coconut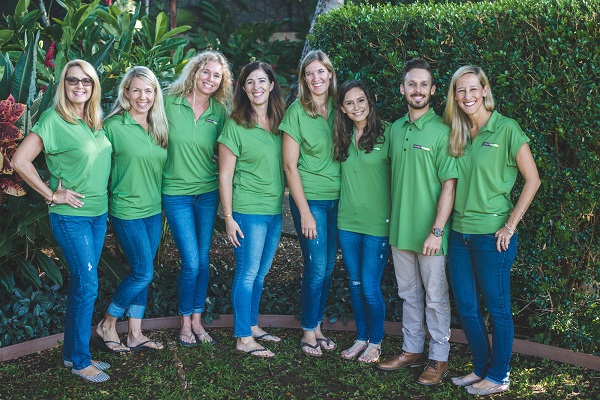 Starting in 2011 with one vacation rental (her own), Angela Leone created Coconut Condos. This property management and vacation rental business quickly grew as she delivered exceptional customer service and fostered relationships with her "partners" as she affectionately refers to her owners. Her vision for the company has continued to motivate her and the team that she has chosen to join her ohana. Angie enjoys spending days, nights and everything in between at the beach with her husband, Mike, two sons, Jack and Ryder and puppy, Wrigley. In her spare time, Angie or "Coops" enjoys saving a pretty penny.
Lisa Meadows, Chief Operating Officer at Coconut Condos, and her husband, Gene, of 32 years, moved to Maui to be closer to their two children, Brinton and Kaitlin. They have been here for four years and Lisa loves that she can look one way and see the mountains and look the other and see the beaches. Lisa is an entrepreneur, restaurateur, and retailer from Orlando, Florida and brings a wealth of experience and wisdom to the team. In her spare time, Lisa enjoys writing and is excited to share the stories of her "

hill-billy" kin

from Kentucky!

Director of Business Development, Zach Thorstad, comes to us from Santa Monica, California. He and his beautiful wife, Ali, moved to Maui in 2015 and Zach loves that he still feels like he's on a permanent vacation. Zach enjoys to golf and explore the great outdoors with Ali and their two dogs. Incidentally, Zach is the only male in the office; but somehow makes it through the days. In his spare time, Zach enjoys eating and trying to brush his hair high enough to hit the door when he walks through.
Property Manager, Valerie Giacomini moved to Maui in 2005, to manage a Bed & Breakfast. Following that, she worked in property management in West Maui and spent the past six years managing the concierge department at one of those companies. Valerie loves Maui and all it has to offer visitors and residents alike. In her spare time, Valerie enjoys letting loose a good backhand every now and then.
Juli Casco is the Accounts Manager for Coconut Condos; a job that requires a patient spirit; which Juli definitely has to have raising three children, two of them teenagers. She has lived on Maui for 23 years, moving here in 1993 after working in the travel industry. After her children went to school, Juli went back to work in the accounting office at Kapalua Golf. She decided to become an independent contractor in 2013 and joined the Coconut Condos team in the spring of that same year. Juli, her three children, one dog, three cats, a turtle and a goldfish, enjoy being involved in the community and all that Maui has to offer. In her spare time, Juli enjoys gunslinging.
Stephanie Kirkham joined the team in 2015 as a part-time inspector and when her three-year-old went to school, she moved upstairs to be the social media department, copy editor, and PR manager. She enjoys spending her days on Facebook, Instagram and Twitter. Stephanie, her husband Ryan and three children love being involved in the Maui community and they couldn't think of a better place to raise their children. In her spare time, Stephanie enjoys the life of a Luddite.
Caitlin Mishler is Coconut Condos Warehouse Manager. A professed organizer, Caitlin loves bringing order to the world around her. She moved to Maui six years ago from Oregon and was drawn to Maui by the laid-back lifestyle, beautiful scenery, year-round weather, and aloha spirit. She has experience in food and beverage and hotel hospitality. In her spare time, Caitlin enjoys arranging her sock drawer according to toe size.
Jacquie Dietz joined the Coconut Condos team at the end of 2015 as the lead Inspector (no easy task!). She has lived on Maui for almost 13 years with her son, caught the surfing bug and now thoroughly enjoys the ocean. In her spare time, Jacquie enjoys counting the threads on her sheets.