Maui Vacation Rental Property Management
Since 2011, we've been providing turn-key West Maui vacation property management services, treating our guests to our exclusive Luxury Services while maximizing returns for our condo owners. The key to our success is our team of seasoned hospitality and marketing professionals who live and work on Maui's west coast. Learn about our Exclusive Property Management Program.
Coconut Condos Difference



Royal Treatment for Our Guests
Fully Stocked Chef's Kitchens
Luxury Bedding by Maka Sea
High Quality Beach Chairs, Umbrellas, and more Beach Gear
Baby Playpens, Strollers, Books, and more items for kids
Organic Spa Products
Cold Towels with Orchid Bloom
Professional Interior Design
Expert Cleaning and Inspection before guests' arrival
Read m

ore a

bout

Our Concierge Services and Packages
Owner Benefits
Seasonal Market Strategy
Multimedia Marketing Exposure
Strict Trust-Based Accounting
Professional Property Cleaning
Meticulous Property Inspection
24/7 Local Support and Availability
Easy Online Booking
Guest Engagement for Repeat Stays
Professional Interior Design by a Maui Designer
Hotel and Spa-style amenities
Unlimited Owner Use
Exclusive Owner Service Perks
Free Travel Credits within our Home Sharing Network
Making a Difference through Our Mission
Read more about

Our Owner Services and Perks
Maui's Best Property Management Team
Angela Leone
Owner, CEO
2019 Maui Small Business
Person of the Year

Lisa Meadows
Chief Operations Officer

Caitlin Lujan
Revenue/Reservations Manager

April Graver
PR & Social Media
Reservations

Joel Steinberg
Maintenance Manager



Milam Pender
Accounting Manager

Mark Haley
General Manager of Property Operations
Valerie Giacomini
Current Guests & Reservations
Brittany West
Reviews & Reservations
Our Mission


Here at Coconut Condos, we believe that as a small business, it is not only our kuleana (responsibility), but our privilege to give back to our community. We have been blessed with so much and it is our desire to use our business to bless and improve the lives of others and letting our lights shine. Here is a list of local, national, and international organizations we partner with.



Our News
"The Small Business Person of the Year for the County of Maui is a stand-out in a busy and very competitive business. A big congratulations to Angela Leone, owner of Coconut Condos. Since 2011, Coconut Condos has flourished as a locally-based property management services company. Starting as a home-based venture with one vacation rental (her own), Angela Leone has expanded to a robust ten-person plus operation with 60 units on Maui. Coconut Condos has emerged as an industry leader, differentiated from competitors by the quality of service, the engagement of staff, and a commitment to give back to their community."
— U.S. Small Business Administration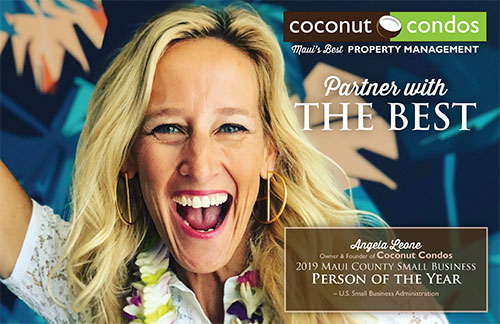 Coconut Condos in the News:
Lahaina News
:
West Sider Angela Leone wins Small Business Person of the Year Award
Maui News
:
Leone named SBA county business owner of the year
Hawaii Businees Magazine:
Small Business Awards 2019
Hawaii Businees Magazine:
2019 Black Book: 339 Executives to Know
Pacific Business News:
PBN's Fastest 50 for 2019: No. 43 Coconut Condos
VRMintel:
VRMs Give Back:
The Power of Giving Back